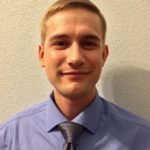 Miles McCabe is a graduate student who works with Dr. Leon Hardy and USF St. Petersburg to promote the presence of computational biology and student research opportunities.
Miles believes that the emerging field of computational biology can contribute to developing a deeper understanding of biomolecular interactions for the advancement of human medicine. Miles holds a special interest in studying the process of protein folding and binding. His research concerns the PTEN tumor suppressor protein and binding interactions with other proteins to inhibit tumor angiogenisis.
Miles serves as Vice President for the USF St. Petersburg student Computational Biology Club and is also Vice President for the International Society for Computational Biology – Regional Student Group – Southeastern USA (ISCB-RSG-SEUSA).
Miles holds a Bachelor of Science in Biology from USF St. Petersburg and is currently enrolled as a student of the Master of Science in Medical Sciences program at USF Health campus in Tampa, Florida.